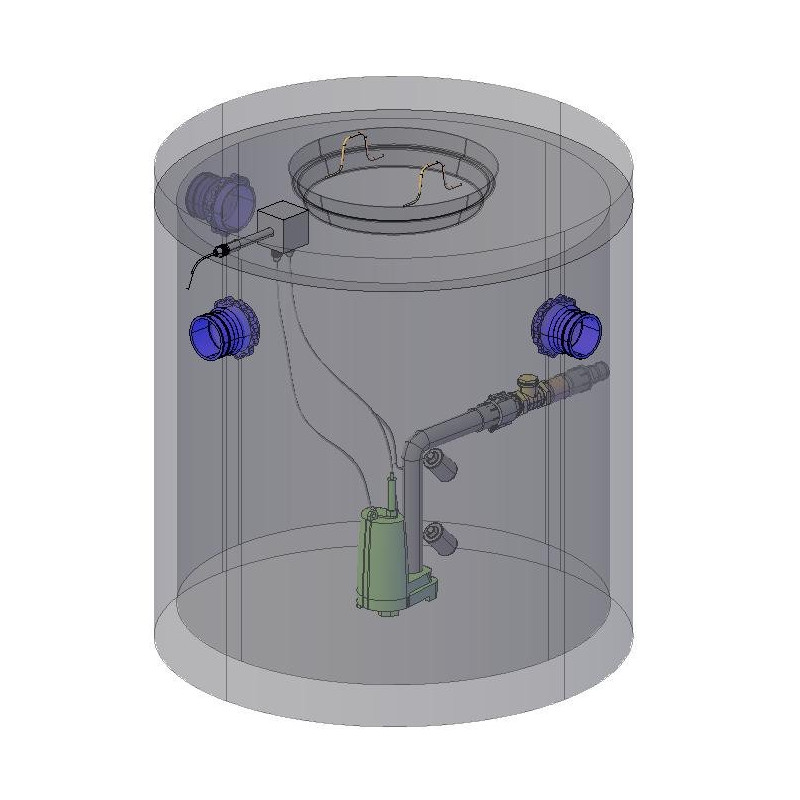  
4'x4' Pump Tank
Security policy (edit with module Customer reassurance)

Delivery policy (edit with module Customer reassurance)

Return policy (edit with module Customer reassurance)
The 4'x4' Pump Tank is a single chamber pump station for residential use.  For installation after a septic tank, pump tanks are outfitted with an effluent pump.  For pump tanks that are 'direct fed' (including solids), require a solids handling or grinder pump.  
Included in our pump tanks: an indoor control panel, pump (effluent/solids handling/grinder), high water alarm and direct burial tray cable.  Outdoor control panels available, by request.
Upon ordering, please provide:
Pump style
Cord length (ft)
Lift (ft)
Push (ft)
Specifications:
4000 psi Concrete @ 28 days
Reinforced with structural fibers & WWR
Air-entrained precast concrete: 6% (+-1%)
Integrally cast penetrations with closed-end rubber boots and stainless fittings
Designed for non-traffic loading
Fill depth: 0"-24"
Risers required over pump chamber per Maine Sub-Surface Wastewater Code
Data sheet
Weight

3,255 lbs

Capacity

391 Gal/188 Gal (HWA)

Interior Dimensions

4' Dia x 4'2" H

Exterior Dimensions

4'5" Dia x 4'10" H

Invert Out

22" CL

Invert In

42"
 CONTACT US FOR
QUOTES & ORDERS